Since 2013, through the JUSTIN Community Grants program, we have been supporting local organizations that strive to make this community a better place to live, work, and raise families.
Geographic Focus
JUSTIN Community Grants support
organizations in North San Luis Obispo
County.
Click on the map below to view the North
Country boundaries marked by the green
shading: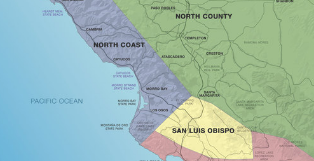 Organizations based outside of this area
may apply as long as proposed projects
directly and exclusively benefit North
County communities.

Eligibility
We believe that the North County region has many compelling needs, which is why our granting program is open to all focus areas.
Eligibility is, however, limited to the following types of organizations:
Nonprofit 501(c)3 organizations
Local government agencies
Religious organizations, provided the project has a secular purpose, no religious content, and benefits the greater community without regard to religious affiliation
For more information on eligibility,
check out our FAQ.
Grant Amount
JUSTIN Community Grants will award
$100,000 annually.
All grants are $5,000.
Organizations may submit one application per year. 

Successful applicants will demonstrate:
 
History of and/or commitment to working in the North County
Community need for the organization's programming or services  
Specifics of how your organization will use the funding to directly impact the community or strengthen your organization's ability to serve the community
Ability to execute your proposal
Tangible benefit for the community as a result of the funding

How to Apply
Applications are accepted annually in January. Our current application cycle is January 1–January 31, 2020.
For a printable version of our online application, click here.